Thursday, August 25, 2011
Posted by Michael Knutson in "Laptop Thoughts Talk" @ 12:30 PM
"First introduced by Microsoft in 1999, many reviewed the Tablet PC as a toy. With the release of Apple's iPad in 2010, the mobile computing world has been consumed with tablets - mobile devices bigger than a smartphone, but smaller than a laptop. This infographic done with Socialcast, looks at the state of the tablet takeover."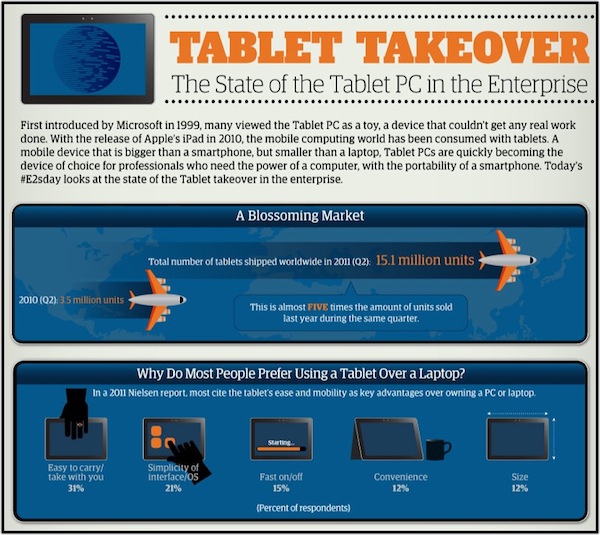 According to this story done entirely as a set of graphics, almost five times as many tablets have been sold in 2011 as in 2010, at least in Q2. According to this source, 72% of US enterprises are using tablets, mostly for email, secondary uses are web browsing and presentations. Perhaps more telling, Apple's share of the tablet OS has shrunk from 94.3% to 61.3%, with Android's share going from 2.9% to 30.1%, or, more than a ten-fold increase. Predictions:
Tablet sales will overtake notebook sales in 2012
One in five US consumers will own a tablet by 2014
US consumers will buy 82.1 million tablets in 2015
27.4% of workers believe that tablets will replace notebooks, but 39% believe that some other device will replace notebooks. Any ideas out there as to what the "other" devices could be?
Data sources credited include Model Metrics, iPass, Harris Interactive, Forrester Research, Gartner, Strategy Analytics, Nielsen and Ringcentral. More sources equate to more credible guesses, in my opinion.
---